The pace of change in the OTT industry over the past two years has been nothing short of extraordinary. When it was thought that video streaming services would remain relatively stagnant, new business models emerged and companies re-invented themselves as this ultra-competitive landscape began brewing. But while OTT's continuing growth can be considered a given, consumer behaviors are likely to change, forcing the industry to go along with them. In this article we'll dive into the current OTT trends and the opportunities and impact this will have for your business. OTT is a complex industry, and it's hard to predict where it will go next. But if we look closely at consumer behaviors, technology trends and the pace of change in this space, we can gain insight into how OTT will evolve over the next several years.
OTT is one of the fastest growing categories in the world and it's only going to get bigger.
OTT is an umbrella term that covers a wide range of services, from traditional TV channels and radio stations to apps, social media and more. It's a new way of consuming media and entertainment, with audiences switching from linear TV to OTT options like Netflix or Amazon Prime Video.
The rise of OTT has been fuelled by a number of factors, including:
the growth in mobile usage across all age groups
the explosion in popularity of streaming video services such as Netflix, Amazon Prime Video and Hulu;
the growth in mobile broadband data speeds; and
the increasing availability of cheap 4G mobile devices.
OTT has been a major disruptive force in the media and entertainment industry, with many traditional broadcasters and content providers now offering their services online. OTT has helped to increase the variety of content available to consumers, while also providing new opportunities for companies to earn revenue. However, there are still many challenges that need to be overcome before OTT becomes the dominant form of entertainment consumption.
#1: The Rise of Niche Platforms and Owned Channels for Smaller Publishers
Everyone is talking about the creator economy and the earning power of small publishers these days. According to Forbes, the creator economy could be worth $104.2 billion in 2022, attracting $800 million in venture capital.
While services like RTL's Videoland in the Netherlands, Now TV in the UK, and Viaplay in the Nordics act as more localised versions of Amazon and Netflix, there are numerous niche platforms with highly specialised content that are gaining fans and loyal viewers. Mubi (classic cinema), Crunchyroll (anime), Shudder (horror), and Yaddo (documentaries) have all had significant success while remaining focused on their respective niches.
Going even smaller, a number of publishers and other businesses are now launching their own OTT services instead of, or in addition to, publishing on a well-known platform. Food vloggers, religious channels, yoga studios, gyms, and sports clubs are all starting their own businesses. As a business, large or small, you now have the ability to use models that will benefit you the most, retaining your loyal followers within your own walled environment.
This OTT renaissance is being driven by technological accessibility. Previously, launching a broadcast channel required an unfathomable amount of capital, but not any longer. A forward-thinking publisher can now launch a streaming service for as little as €5,000.
#2: Subscription Fatigue Causes More Diverse Models
Consumers around the world splurged on subscription services during the pandemic, but the party couldn't last forever. According to Deloitte Global, streaming services will see 150 million service cancellations by 2022. That equates to a global churn rate of 30%.
Today's consumers are more willing to watch ads in exchange for lower monthly outlays, which means AVOD will likely grow significantly in 2022 and beyond, displacing linear TV ad revenue. CTV budgets, for example, are expected to double by 2026, according to GroupM.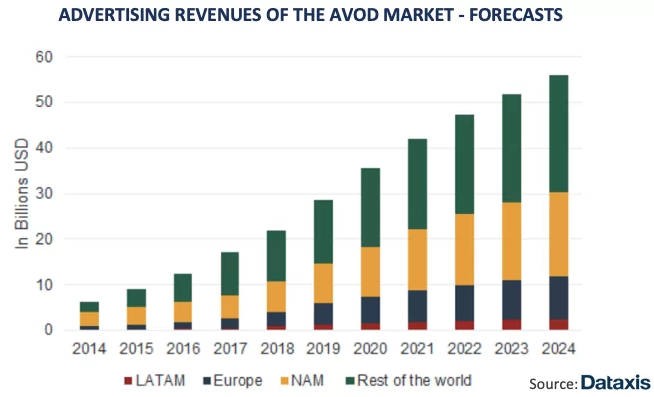 Transactional video on demand, or TVOD, is performing well. The TVOD model allows viewers to buy or rent TV shows and movies by episode or season. This model has been tested in the market, as consumers have been sampling shows through Amazon Prime subscriptions for many years. Revenue will reach US $10,423m in 2022, mostly in the US.
Another popular model is freemium, which provides viewers with a basic level of service at no cost. Services such as the Roku Channel and Peacock allow viewers to watch selected content such as popular old movies, no longer in production TV shows, and a sneak peek at some original content.
Subscription fatigue is generally regarded as beneficial to consumers, but it also creates opportunities for smaller or niche publishers. It will force non-free streaming services to expand their content catalogues and adapt advertising models, making content more accessible to consumers. This opens up new monetization opportunities for smaller or niche publishers who may struggle to attract a large number of subscribers and thus survive on a subscription model.
#3: Meanwhile, the Giants' Battle for Market Share Continues
Netflix is still the streaming king, with 222 million subscribers worldwide. Amazon Prime isn't far behind, with 200 million subscribers, though many people subscribe for free shipping rather than viewing video content. According to Nielsen, Netflix subscribers watch 5x more content than Amazon Prime users.
According to Adweek, the real fight is for third place. Disney had hoped to catch up to Netflix with three streaming services in its portfolio: Disney+, Hulu, and ESPN+. For a time, it appeared that Disney+ might do just that, gaining 118.1 million subscribers in its brief existence. However, its growth has recently slowed and has fallen short of Wall Street expectations.
#4: With the advancement of smart TVs, the number of CTV viewers is increasing.
Streaming services and video platforms were game changers because they enabled customers to watch their favourite shows on their computers and mobile devices whenever and wherever they wanted. However, smart TV sales are surging worldwide (by 2026, half of the world's population will own one). Why watch a show on a 13-inch laptop screen when you can watch it on a 72-inch TV?
Enhancements to the smart TV UX has increased the number of people watching TV on them — and signing up for services like Apple TV+, which now has 40 million global accounts and 20 million paying subscribers. As this trend continues, more opportunities for business owners to compete and reach their target audiences with highly niche content on the traditional television screens.
#5: Telecom companies provide bundled packages.
How should a telecom respond and remain relevant in the age of streaming media? Combining OTT subscriptions such as Netflix, HBO, or Disney+ with music streaming services such as Spotify has proven to be a wise move in preventing this business model from going the way of the video rental store. AT&T customers, for example, can get HBO Max plans, and T-Simple Mobile's Choice customers can watch Netflix, Amazon, and Hulu, while Verizon customers can get Disney+, Hulu, and ESPN+.
Such bundles are expected to account for up to 50% of online viewing minutes by next year.
Future OTT Trends: A Still-Developing Market
While the OTT market has grown rapidly, it is far from mature. The AVOD market faces numerous challenges in terms of targeting and privacy, whereas the SVOD market has reached a tipping point in terms of what consumers are willing to pay on a monthly basis.
What is certain is that massive battles for market share among the big guns will continue, with newer and nicher entrants regularly joining the party, as well as further significant shifts in user behaviour. As a content creator, you are no longer excluded from this sphere, as technological advancements create accessibility, a growing audience creates business opportunities, and there are numerous methods of monetization available.
This still feels like the start of the OTT era, and the trajectory is very much upwards right now.